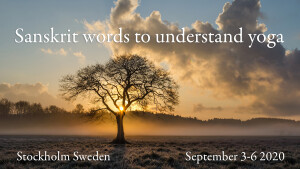 Frans Moors and Martyn Neal, Stockholm, 5-8 May 2022
SANSKRIT WORDS TO UNDERSTAND YOGA
Study, chanting and practice with Frans Moors and Martyn Neal
5-8 May 2022
Martyn Neal and Frans Moors will teach a seminar together in Stockholm in May 2022. We are really happy about this and think it will be a very special event to see this two teachers together. It is so rare to have Frans and Martyn teaching together and in English so we really look forward to this seminar. Please read more about the seminar below.
The language of yoga is sanskrit. For many years, through his long standing connection with TKV Desikachar, Frans Moors has studied the words used to describe the important concepts of Yoga. He has also painstakingly investigated each word as part of a long term project for a book which is coming close to completion.
During the course Frans will share this research with us, along with Martyn Neal who has devoted so many of his numerous stays in India to chanting with his teacher, TKV Desikachar. Martyn will help us to dive deeply into reciting this beautiful sacred language in the way the yoga tradition has handed it down for thousands of years. Chanting brings us to another way of « understanding » Yoga.
Frans and Martyn have both studied and taught for several decades. Their objective is simply to share with others what they have received and understood.
Practical sessions of postures, breathing and meditation will enable us to appreciate in yet another way the essence of Yoga. 
The seminar will be held in English.
Venue: GIH – Idrottshögskolan, Lidingövägen 1, Stockholm
Dates: Thursday 5 May – Sunday 8 May 2022
Time schedule: Thursday: 16.30-19.00, Friday 9.00-12.00 + 14.00-17.00, Saturday 9.00-12.00 + 14.00-17.00, Sunday 9.00-13.00
Price: 3800 SEK
Registration: To register to the course please email us at info@yogaskolan.se
Frans Moors
Frans has trained yoga teachers in Belgium, France and Canada and is nowadays dedicating most of his time to his book projects. He studied with his teacher TKV Desikachar for around 3 decades and has written a very popular commentary on the Yoga Sutra. 
Martyn Neal
Martyn studied with TKV Desikchar for over 30 years. Using his yoga school in Narbonne as a base, Martyn, gives individual and group tuition both for yoga and chanting, as well as conducting his teacher training courses.